Brain Molecular Genetics Laboratory.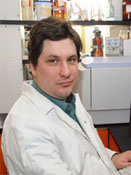 Ivan Y. Yurov, Doctor of Biological Sciences, is the head of the Brain Molecular Genetics Laboratory.
He started his research in the field of molecular genetics and biological psychiatry since 1999.
Dr.Yurov's PhD thesis in 2004 was devoted to the epigenetic and genetic specifics of the Rett syndrome, in 2011 he defended his doctoral thesis "Structure and function of chromosomes in patients with psychiatric disorders".
Dr.Yourov is a coauthor of 2 monographs ("Heterochromatic areas of human chromosomes", 2008; "Human interphase chromosomes: biomedical aspects", 2013), 1 patent (RU 2 425 890 C2), about 140 articles, more than 400 abstract on conferences.
Ivan Y. Yurov is the founder and the executive editor of Molecular Cytogenetics Journal, the chief editor of the Journal of Neurolgy and Epidemiology, the deputy chief editor of the World Research Journal of Molecular Cytogenetics, the scientific editor of the BioDiscovery Journal. In 2010 he was invited to be the chief editor of the special edition of the Current Genomics Journal. He also a regular reviewer in more than 50 international journals, including the Journal of Neuroscience, Frontiers in Cellular Neuroscience, European Journal of Human Genetics, Neurodegenerative Diseases, PLoS ONE, Journal of Histochemistry & Cytochemistry, World Journal of Biological Psychiatry.
Dr.Yurov's received prestigious awards for his scientific achievements, including the Scopus Award Russia (2012), Gran-prix of IX Russian Congress "Innovative Technologies in pediatrics and child surgery", Chromosome 2009 Conference Award, Diploma and Award from the Presidium of Russian Academy of Sciences and the Regional Public Foundation for the National Medicine Support (2008 – 2009). In 2010 I.Y.Yourov was elected as a professor in Russian Natural Science Academy.
The Brain Molecular Genetics Laboratory was established in 1988 on the basis of the Pathomorphology Laboratory, headed by professor Marat E. Vartanyan. Up to the 2012 E.I.Rogayev, Doctor of Biological Sciences, Professor, the laureate of the State Award, headed the Brain Molecular Genetics Laboratory. Over the past years, multidisciplinary research studies in the laboratory were focused on the hereditary predisposition towards psychiatric disorders:
DNA markers of hereditary disease were revealed and the opportunities for their application for the diagnostic were studied
Structure of the nucleotide sequence of centromeres in human were described and the model of their provenance developed
Sets of highly polymorphic components were detected, their structure described and highly polymorphic DNA-markers data was implemented for the personal identification and medical genetic research
Presenilin-1 gene, responsible for the most of early onset Alzheimer's disease forms, was detected and cloned
Sets of new type protease was identified
The role of the non-coding RNA in the development of mental disorders was studied and discussed
Strategies of positional cloning of complicated hereditary pathology genes were implemented.
Current research priorities:
Establishing molecular and cellular mechanisms of Alzheimers disease, autism, schizophrenia and non-differentiated forms of mental disorders through the whole genome scanning
Determining endogenous and exogenous risk factors of psychiatric diseases, finding possible opportunities for scientifically justified molecular treatment, using contemporary molecular genetic methods
Bioinformatic analysis of genome, epigenetic and genome pathways related to normal and injured brain functioning
Detection of orphan diseases bilogocal markers and mechanisms in order to provide better up-to-date personified medical solutions.

Staff members of the Brain Molecular Genetics Laboratory:
V.Y.Voinova, Doctor of Medicine. Lead Reasearch Scientist.
N.V.Zyablova, Candidate of Biological Sciences. Senior Research Scientist.
S.S.Kunijeva. Senior Research Scientist.
V.S.Kravetz. Senior Research Scientist.
O.A.Smirnova. Research Scientist.
A.Y.Goltzov. Junior Research Scientist.