Laboratory of pathophysiology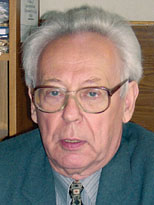 Head of the laboratory: Nikolay F. Myasoyedov, Academician of Russian Academy of Sciences, since 2007 to date.
In 1981 N.F.Myasoyedov defended his doctoral thesis in chemistry "Methods and technology of production of compounds marked with tritium". His Research priorities are focused on neurochemical mechanisms of non-psychotic and psychosomatic mental disorders related with personal disposition and the role of peptidergic systems in anxiety and phobic disorders pathogenesis.
Academician Myasoyedov is an author of about 300 publications, he provided an oversight of 12 candidate and 3 doctoral dissertations.
N.F.Myasoedov was awarded with the USSR State Award in 1983, Russian Government Award in 2000, the rank of Honorary Originator. He is conferred with the "Order of Merit for the Homeland, II degree" in 1990 and the "Badge of Honor" in 2008.
The Laboratory of Pathophysiology was established in 1993 by professor Andrey A. Zozulya (1950 – 2007), who headed it from the beginning to 2007. It was formed on the basis of the group of immunological laboratories.
The research projects in the Laboratory were closely related to the work of scientists from the Molecular Genetics Institute of RAS in the field of bioactive peptides' chemistry. The members of the Laboratory team were first to reveal and describe the components of the opioid system of immunocompetent cells. They identified the correlation between the indicators of opioid and immune systems both in normal state and in psychosomatic disorders provoked with stress. Opioid-dependent elements of the pathogenesis of anxiety and phobic disorders were described. The Laboratory was the part of the process of the research and development of Russian peptide compounds, such as "Delargin", of peptide neuroprotector "Semax" and peptide anxiolytic drug "Selank".
Current research priorities:
Study the mechanisms of internal and external neurochemical regulation in mental disorders
Clarify the age specifics of the psychiatric pathology pathogenesis in order to establish pharmacodynamic foundation for the new treatment methods
Structural and functional analysis of active compounds in order to experimentally develop safe antipsychotics, antidepressants, anxiolytics and nootropics.
Study the mechanisms of the secondary drug resistance and methods to subdue it.
Staff members:
Natalia V. Kost, Doctor of Biological Sciences. Lead Research Scientist.
Oleg Y. Sokolov, Doctor of Biological Sciences. Lead Research Scientist.
Svetlana G. Kushner, Candidate of Biological Sciences. Senior Research Scientist.
Elena Y. Hashaba. Senior Research Scientist.